With 2020 comes a new look of Miroslavo's website which has now launched.  A lot of importance has been placed on user experience and usability. The minimalistic, humble and elegant look was maintained from its previous version as the philosophy of Miroslavo is grounded in servicing others.
The highest of distinctions is service to others
Miroslavo is not only artistic expression. His art venture would not exist without the support of professional services in the fields of design, art, photography, creative consulting and R&D of new products offered to corporations, local companies, nonprofit organisations, freelancers and individuals around the world.
The new website captures the identity of Miroslavo with its elegance, minimalism, and classiness.
Store
The store page—focused on selling art—was designed to evoke a feeling of free self-expression and provides a simple and quick shopping experience.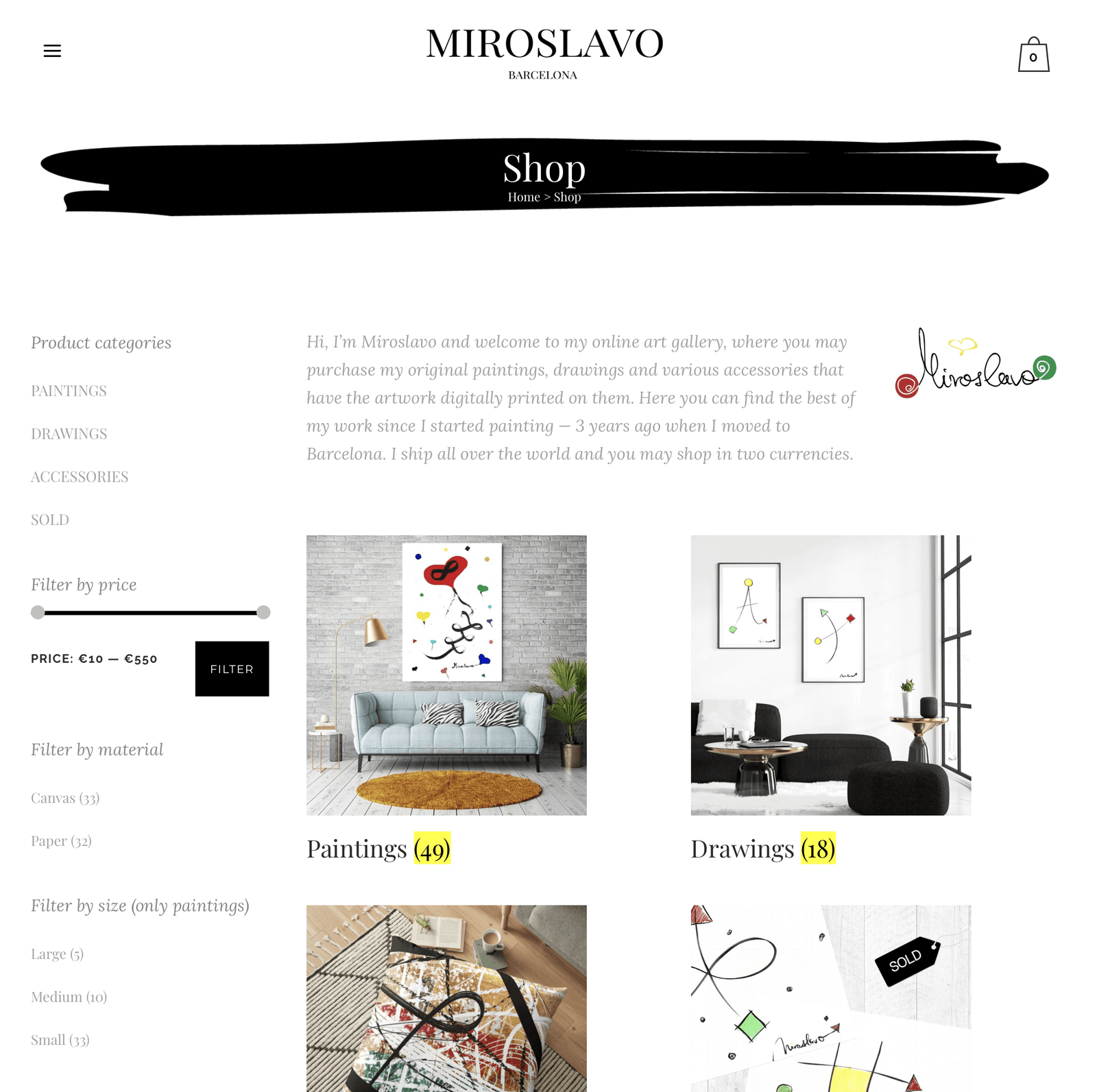 Customers can filter products based on various factors like category, material, price, and size. This provides them with a very quick way to find what they are looking for. From start to finish it should feel effortless.
The shop is currently in two currencies, EUR, and CZK, which can be switched with a currency selector. Miroslavo delivers worldwide and shipping depends on the location and size of the artwork.
Please feel free to browse throughout the website and give it a spin. After all, it has been designed with you in mind.
Miroslavo in 2020
Number 2020 is a symbolic number in its own right. Miroslavo has many things planned for next year and he started early by launching his new website and look, and by starting to implement sustainable and social responsibility principles in his business, a reaction to the alarming environmental and social dilemmas of today.
Miroslavo was created in Barcelona in 2016, shortly after he had moved here. Since then the city has given him so much. Bearing its name in his logo is the least he could do.
Next year, we can expect important exhibitions, performances, new work, the growth of his store and new partnerships, both in Spain and the Czech Republic. It will be a year of establishment.